"Several years in the making, [
Not Moving
's] piano driven tracks aren't as close to Springsteen as perhaps The Hold Steady may be, but they are in the general vicinity and that's a really good thing. Toss in some Arcade Fire and a little Wilco, and you start to get the idea..."
—
Chuck P, KCRW
"If there was one new act who, I believe, can shake the confines of the L.A. scene and make some ripples elsewhere it's Marvelous Toy."
— I Guess I'm Floating
"[
Not Moving
's] piano-based songs are about as supercharged as piano-based songs can get. Just imagine Billy Joel, far less mawkish, tasered into the new millennium."
— Buzzbands
"Pounding piano lines are front and center with various percussion and orchestral accompaniment helping round out the sound… No matter what your flavor, Marvelous Toy can abide. Raucous? check. Down tempo? check. Emotional? check."
— The Muse In Music
"If Bob Dylan made indie rock music he would be in Marvelous Toy. Frontman Jordan Hudock has a bravado that makes MT's live shows a can't miss experience."
— We Listen For You
---
Powered by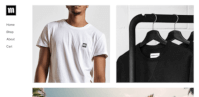 Create your own unique website with customizable templates.